There are no upcoming events at the moment. Stay tuned for updates!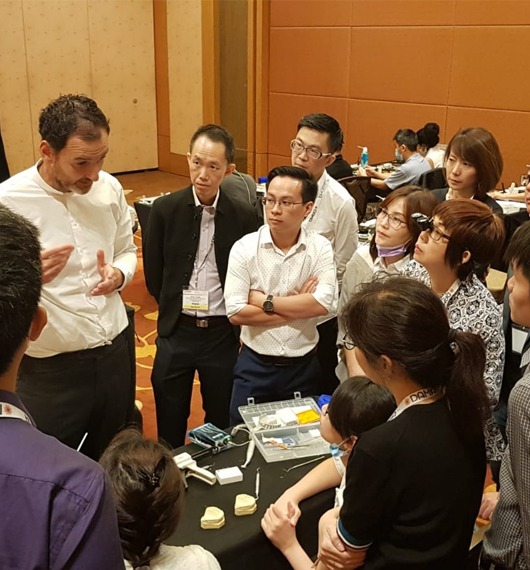 The Aesthetic Dentistry Society (Singapore) or ADSS organizes meetings, lectures and workshops to raise the awareness of the science – and art – of aesthetics in dental practice for our members and their teams.
Procedures performed for our patients must conform to principles and standards that will serve to – not only enhance appearance – but preserve good health. Achieving this requires continual study and training.
Delivering an aesthetic result for our patients requires the amalgamation of knowledge in diverse fields like biology, material science and art with clinical and technical skills. This often requires the coordinated work of a team of highly trained professionals to deliver comprehensive treatment. ADSS works closely with industry leaders, laboratories and members' teams to facilitate this.
A Little History-
The Society was formed in 1999 to promote the knowledge of Aesthetic Dentistry among dentists in Singapore and to educate the public of what is possible with this new art and science. Our founding and first President was Associate Professor Jennifer Neo of the National University of Singapore. The Society was conceptualized as a means for dentists to enhance their clinical skills and knowledge with the new materials and technology that were emerging especially in the field of bonding and ceramics.
Dentists are now able to improve a persons' smile and function without extensive removal of healthy tooth structure. We are no longer bound by the limitations of tools and materials, but only by our experience, imagination and – always — with our patients' benefit as the goal. There was also recognition that our patients' needs and demands have grown especially with the growth of social media. This 'revolution' behooves dentists to be up to date in the services they offer in their clinics
ADSS Ethical Code & Guidelines
Aim for aesthetic dentistry with long-term function and the maintenance of good health.
Provide all treatment possibilities, including expected longevity of the restorations, and receive patient's consent before providing irreversible aesthetic procedures.
Explain to the patient that:
 4. Continuously train yourself on methods and materials so as to provide competent care for your patient.
Aesthetic Dentistry is defined as a discipline within dentistry where the primary focus is the modification of appearance of a patient's teeth and surrounding structures, in conjunction with the prevention and treatment of organic, structural, or functional oral disease. Through aesthetic dentistry, the appearance of the mouth can be altered to more closely match the patient's subjective concept of what is visually pleasing.